Your Wall, Your Vision
Our Paint Brush.
Greater Toronto


Master Painters For Hire

We have been providing affordable and reliable painting services in Toronto and throughout the surrounding areas since 1996. Our team provides professional painting services for both domestic and commercial projects of all sizes. We're not just any old painting service, we can manage your entire painting project professionally and from start to finish.
Experienced Painters
Our painting pros know what they're doing and will fulfill all of your requirements. We work with commercial and residential clients and always deliver on our promises. As an established painting company in Toronto, we can offer cost-effective prices and high-quality results. At Selective Painting, we like to think big and put our service at the heart of everything we do. It's important to us that every client we work with goes away with a stunning paint job.
The Best Pro Painters Around
Painting can be a significant investment, but choosing us as your contractors ensures that it's a wise investment. We're proud of the service we offer and the master painters that always deliver for our customers. It's not easy parting with your money, but our company was built on offering transparent pricing and the loyal customer base that keeps us thriving. If you'd like to see evidence of our projects, feel free to view our portfolio.
Affordable Painters in Greater Toronto
Painting Services in Toronto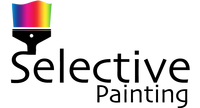 Selective Painting
25 Bella Vista Ct




Woodbridge

,

ON

L4L 7P5
Tel:
(647) 407-0972




5

/

5

stars – based on

9

reviews
Clients Praise Our Master Painters
My house was outdated. Selective Painting had done work for me on a commercial project and they came advised me on what to do in terms of painting and I was left very satisfied with their final product. Great team and future for Selective Painting.

Tony G

Greater Toronto
I was in a rush my house just closed and needed to paint. I was referred to Selective Painting from a previous client and I will forever be grateful they did such a fantastic job in a short period of time. Punctual, friendly and extremely efficient. Highly recommend Selective Painting to anyone!

Daniela Miceli

Greater Toronto
I met the team of Selective Painting while working for a custom home builder. I loved their work at the projects they've worked on and as soon as I went on my own and was in charge of my own projects, I needed painters that are precise with their work, are easy to work with and are very attention to detail.

Adam Mann

Greater Toronto
I needed a few commercial units to be repainted to give it a fresh look for new renters. Was very pleased with the outcome Selective Painting provided. They were clean. Also very skilled painters. Very efficient.

Frank C

Greater Toronto
Simply fill out the form below and one of our pro painters will contact you shortly.